This is a premium black leather pet collar, accentuated with dazzling clear rhinestones. The durable authentic leather collar has great character and diamond texture. We've constructed the collar with chrome hardware to balance out the brightness of the rhinestones. This collar looks fantastic in photos and commands attention on afternoon walks. Matches perfectly with our 
black leather dog leash
.
Size Guide
Customer Reviews
02/25/2021
Maria M.

United States
Gorgeous!
Bought a medium for my Belgian Malinois with a 17 inch neck. It fits perfectly. I like how the collar is more narrow at the buckle. It's easier to put on and more comfortable. The collar is amazing quality and the diamonds sparkle from across the room. We get compliments ever day. I wish the diamonds came in red. I have 3 other dogs and they will all be getting a new collar from here very soon. They will not disappoint and the shipping was very fast. It actually arrived early. You won't regret buying these collars. The quality is amazing especial for the price.They will last for years!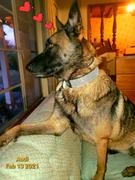 10/27/2020
Christine J.

United States
I LOVE this collar for my Frenchie~ Nauti~Nellie!
Amanda was so helpful in ordering the correct size...Thank you!!! Actually, getting in contact with them today was on my list of things to do, I want more collars!
10/19/2020
Jaclyn C.

United States
Best ever!
I am in my second 1" rhinestone collar, I could not imagine my beautiful pitty girl in anything else. All three of my dogs wear Mutt couture, there is nothing else better. We all love them
08/27/2020
Teri E.

United States
Ms. Sparkle
I absolutely love the name "Mutt Couture", that said...absolutely love this collar, our Jordy is a black lab and everyone assumes SHE is a HE....well NOT ANYMORE!!! Have a Super Sparkly Day!!
08/24/2020
Danielle O.

United States
Rhinestone
Overall the experience was amazing. We beeed frenchies and finding good quality collars is something that. An be challenging. The options available gives you a variety of Choices. The detail on this collar ensures our girls our a standout!! The pictures do not so this bling justice!!